The 1st Sabah Real Estate Focused Virtual Property Expo
by Azmianz Allianz Sdn Bhd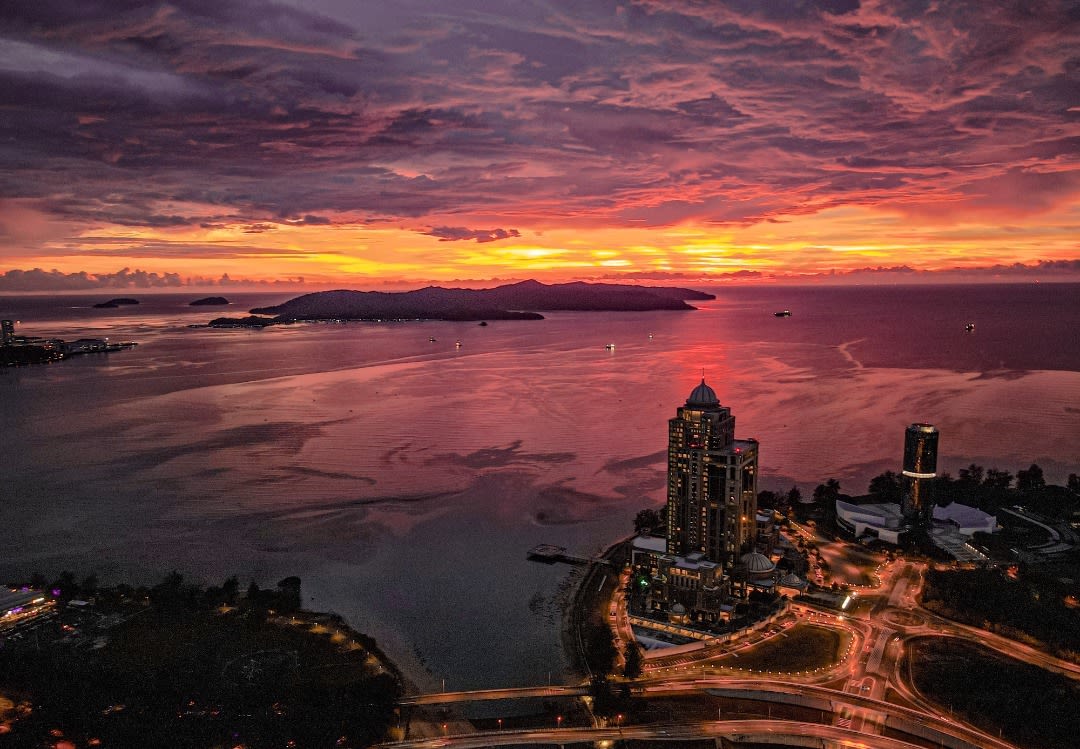 Azmianz Allianz Sdn Bhd, with the gracious support of SHAREDA, Daily Express, Overseas Chinese Daily News, Property Hunter, MHub, Azmi & Co (Sabah) Sdn Bhd and Azmi & Co (Tawau) Sdn Bhd, shall organise and host the 1st Virtual Property Expo in Sabah scheduled on 7 and 8
August 2021.
This exciting inaugural virtual event themed as Sabah Real Estate Focus shall engender greater public interest and awareness on digital/online sales activities.

WHAT IS A VIRTUAL PROPERTY EXPO?
A Digital Real Estate Marketplace (TAMU)
COVID-19 pandemic has forced us to re-look at what can be done better and to overcome the restrictions and limitations of physical sales & marketing activities.
Shopping and grabbing food online are now an ingrained phenomenon. The new normal is, therefore, to conduct virtual property tours first before physical viewings.
This focal Event creates a virtual marketplace for Exhibitors' to showcase their projects with key information and interactive digital marketing collaterals. Visitors can navigate in virtual booths/pavilions and place ONLINE BOOKINGS via mobile or web portal attended by experienced Real Estate Negotiators from Azmi & Co's through live chats/messages.
Extension of the Home Ownership Campaign (HOC) to December 2021 will entice buyers but this opportunity may be missed if there is no concerted effort to drum up interest and sales. This Virtual Event Platform is the
way to boost sales achievement digitally.
POLISHED ONLINE BRAND PRESENCE WITH LOCAL AND GLOBAL REACH
A commanding and prominent online brand presence is now an important sales growth driver in real estate or any business. Publishing attractive online content and establishing a strong social media presence serves as a way to communicate, meet customers' needs, build trust and confidence for effective sales engagement.
By leveraging on the benefits of digital marketing, exhibitors can reach out to a wider and larger targeted audience, locally and globally, at cheaper costs compared to traditional marketing approaches.
The potential reach for this Event is 200,000 with the main focus on Sabah's market.
No effort shall be spared to elevate awareness of this event which will be advertised in leading digital news media, apart from marketing via social media, network and database postings.
International Reach Out Digitally
In order to reach out to purchasers beyond our shores, our Virtual Domain is configured for Global Accessibility including the huge China and North East Asia markets.
Tapping onto a database of foreigners who have already purchased Malaysian Properties, we can readily increase our reach as they are an invaluable resource for leads generation.
Further leads will be generated through a network of expatriates' resident in Sabah curated from our marketing of premium properties sought by the foreign markets.
With the prospect of an improved MM2H programme or even a PR drive, we believe Exhibitors with premium developments should therefore take this opportunity in anticipation of the interest that will be generated.
MHub Showroom for Buyers
An Online Interactive Digital Sales Booking System
Apart from harnessing the digital opportunities, in today's shifting real estate landscape, it is important to focus on "A Pleasing & Friendly Digital Customer Experience & Engagement".
This Virtual Event, therefore comes with an Online Interactive Digital Sales Booking System namely MHub Showroom for Buyers, supported by our Tech Partner MHub. This easy-to-use Virtual Showroom & digital booking system shall be opened for 3 months commencing from the Event.
Access is COMPLIMENTARY to all Event Visitors upon registration. The 3 months window is a good opportunity for developers to attract visitors to peruse all participating projects and placed bookings via an excellent and user-friendly platform.
Azmianz Allianz Sdn Bhd intends to undertake strategic partnership programmes to fully digitalise the sales and marketing of all projects entrusted by its clients. Discerning buyers require and appreciate the best of such services.
Together with our supporting partners in VPEX 2021, this digital platform is our contribution and commitment to Sabah's Property industry.
Developers are encouraged to be part of the "Digital Evolution with Exponential Growth" by using this Event Platform to elevate their sales and market presence further.
Grab the opportunity now to secure a booth and meet with our representative Ms Kelly Lim at 017-8680825 for an introductory session on the Exhibitors' Presentation Kit and explore the virtual platform concept.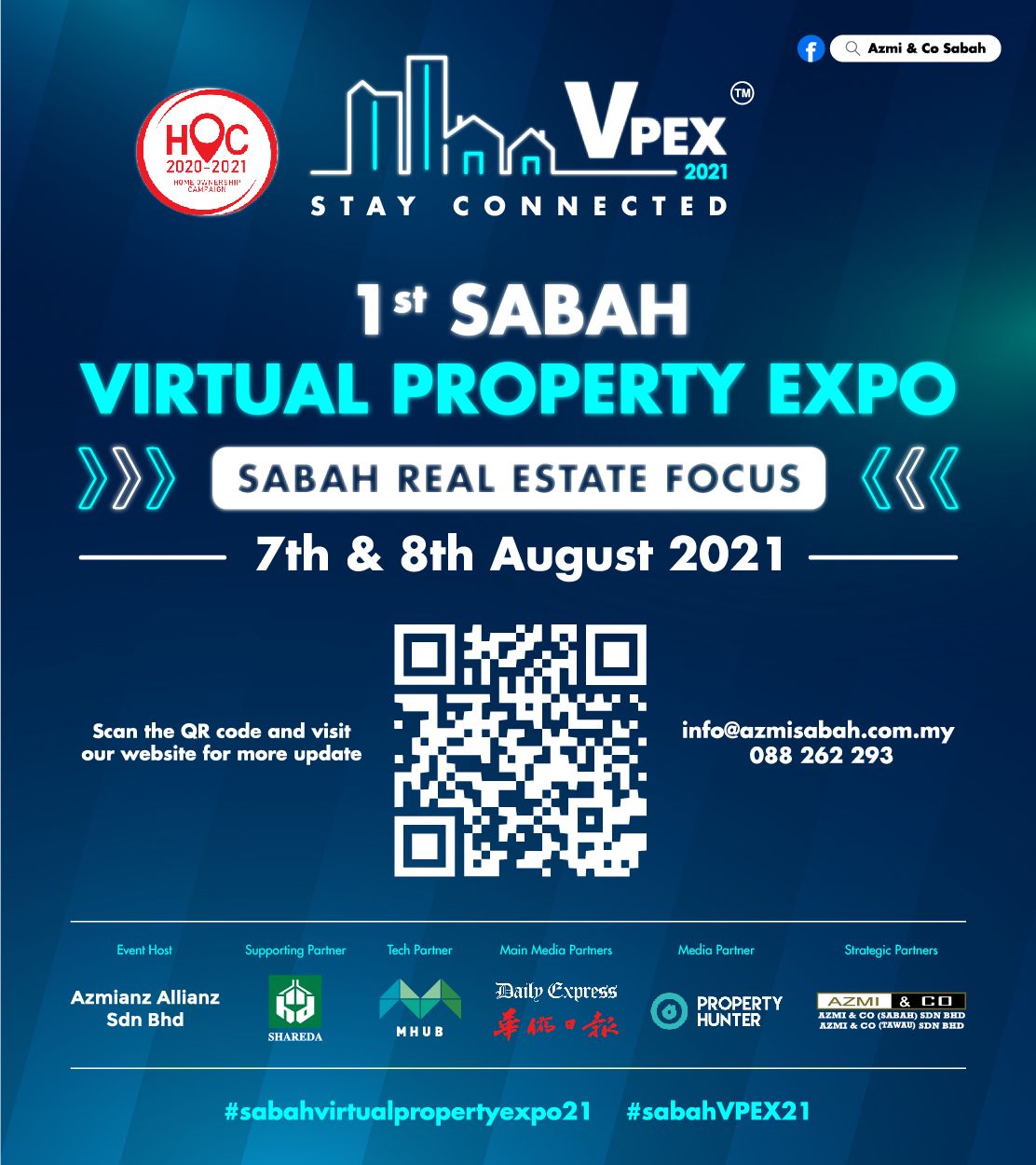 "Leave The Stamp Of Your Digital Footprint for Virtual Progress"