Groceries at your doorstep
During this time, under the MCO, stay indoors and have your groceries delivered straight to you. This list is for deliveries in Kota Kinabalu.
While Malaysia is under the Movement Control Order to stop the spread of the coronavirus (Covid19), people are ordered to stay at home unless absolutely necessary.
Do your part and opt to have your groceries delivered straight to your doorstep.
Here is a list of businesses that will venture outside and get your essentials for you so that you can #StayHome :
*Disclaimer: Please be mindful of fake news circulating. The best way to be sure of services is to contact the business directly. #BuyOnline #SupportLocal
1. Tong Hing
Not only is Tong Hing doing their part to be as sanitary as possible but they are offering personal shoppers
and delivery services. Here is how it works: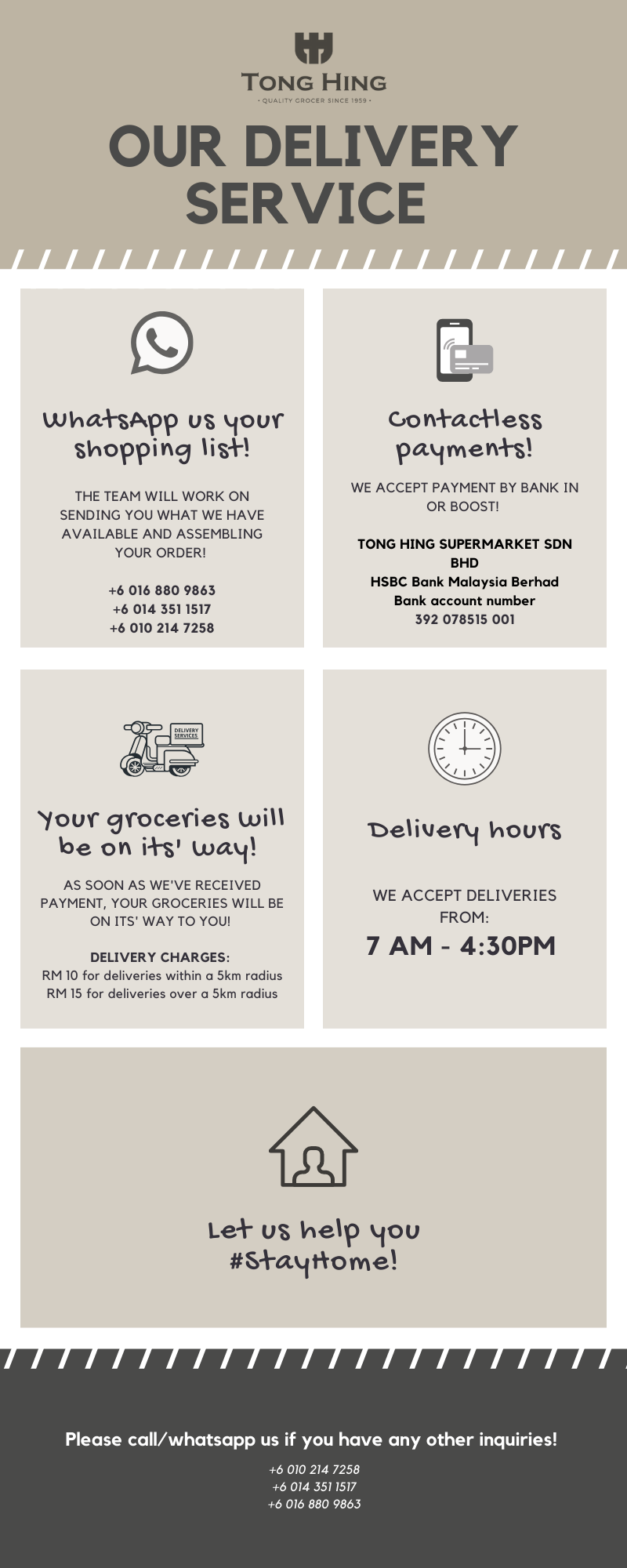 2. Borneo Kaki
Shop online with Borneo Kaki to get your absolute essentials. Their facebook page says they are "an integral part of SSO which is a government/private partnership spearheaded by the Ministry of Trade and Industry Sabah."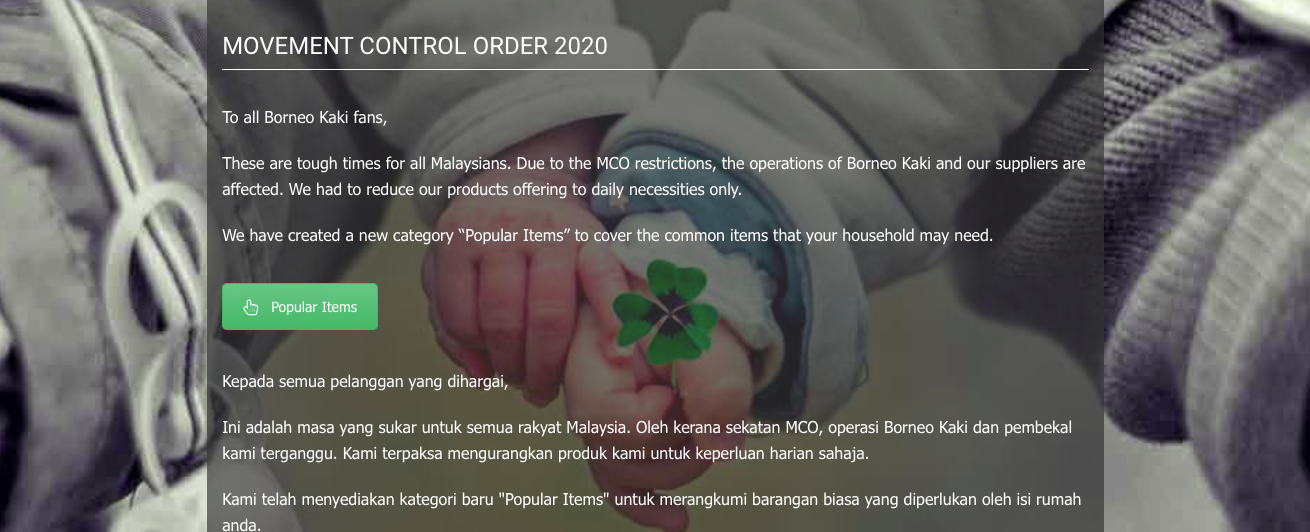 3. Servay
Order your groceries on their website and have your groceries delivered to you or you may choose to pick your purchases up at the store, which will still minimize your time outside. Check for delivery conditions here.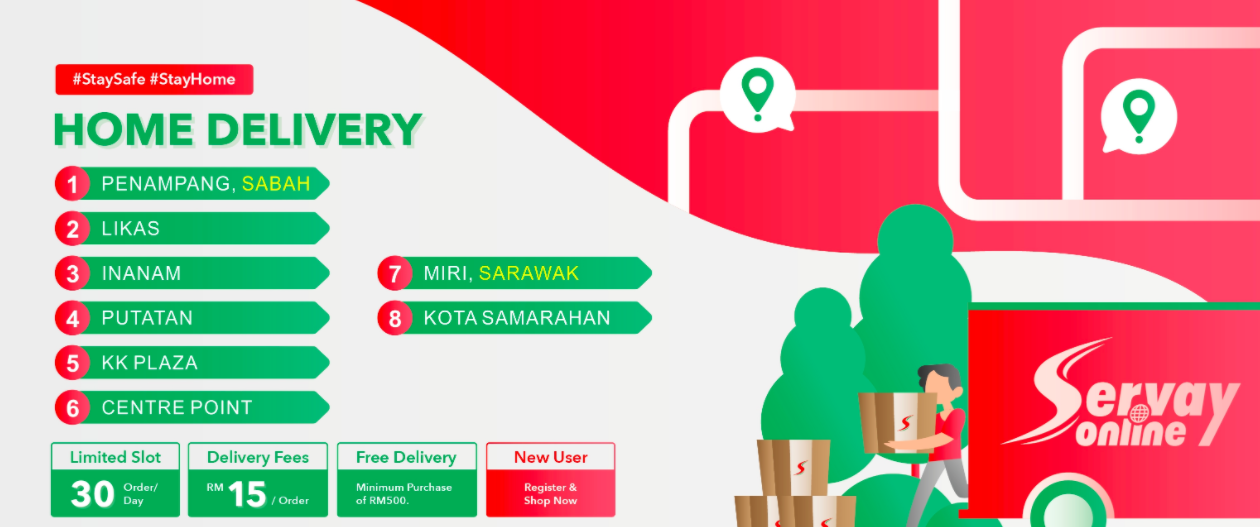 4. City Grocer Supermarket, Suria Sabah
Whatsapp your shopping list to City Grocer and they will deliver your purchase to you.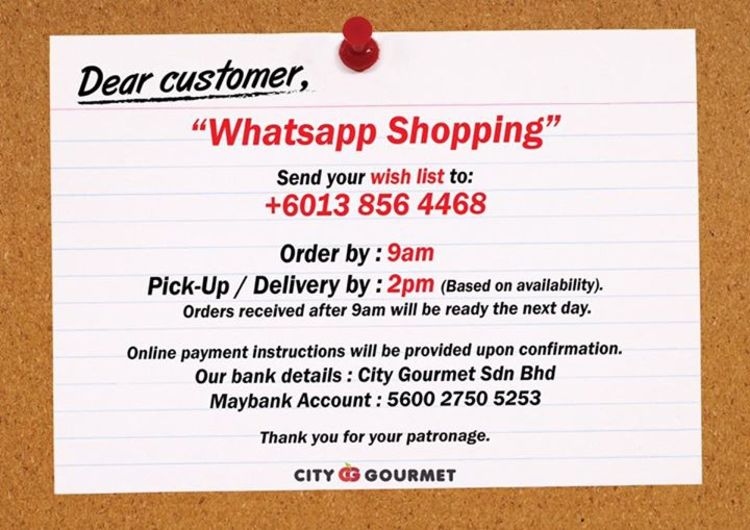 5. Boulevard Hypermarket Penampang
If you are within 5KM radius of Boulevard Hypermarket Lintas Jaya, Boulevard will deliver your groceries to you. Fill out the online order form here.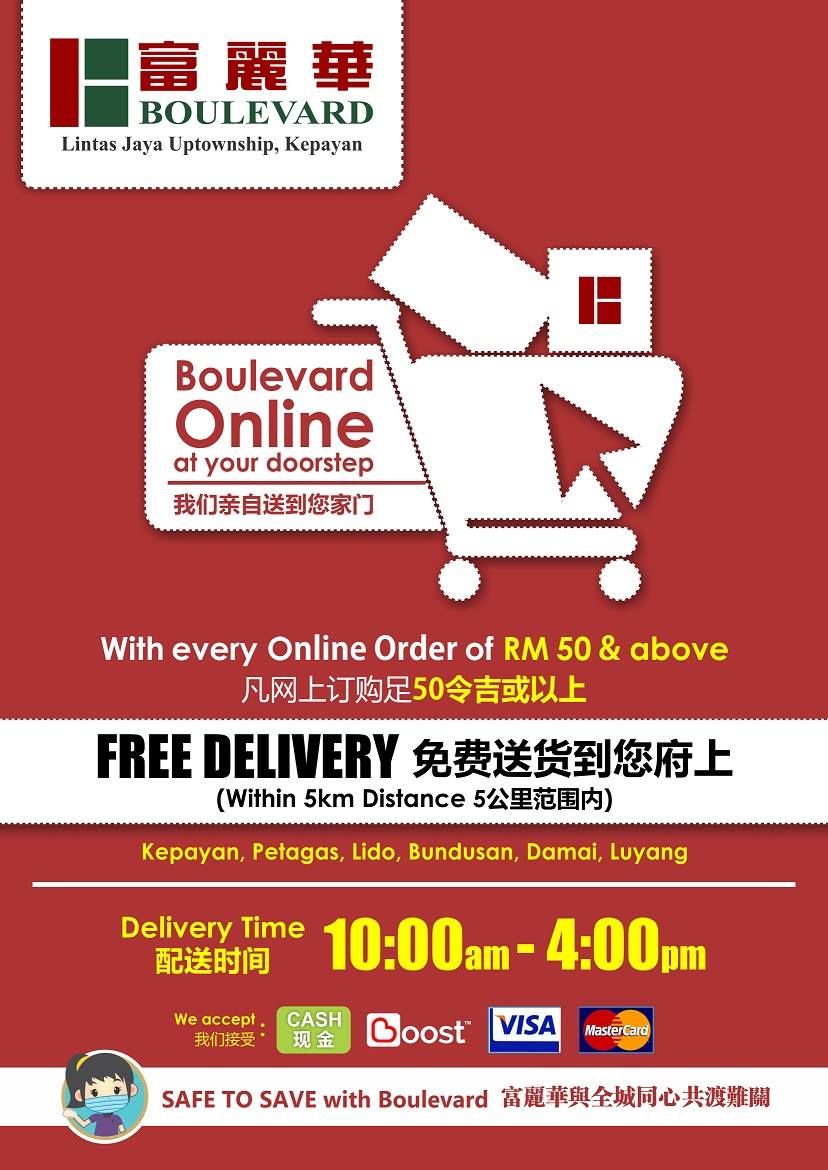 6. Wisestore
An online supermarket in Kota Kinabalu offering day and night delivery services. Visit their website to place your order.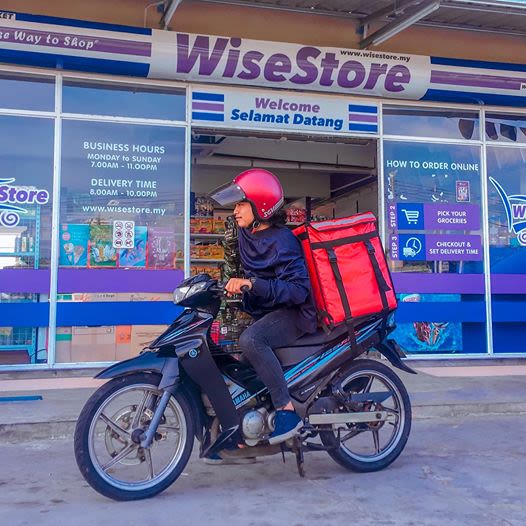 7. Alu Alu Kitchen
Not only do they deliver organic, freshly-cooked meals, the farms of Alu Alu also deliver fresh seafood and organic vegetables for you to cook however you desire.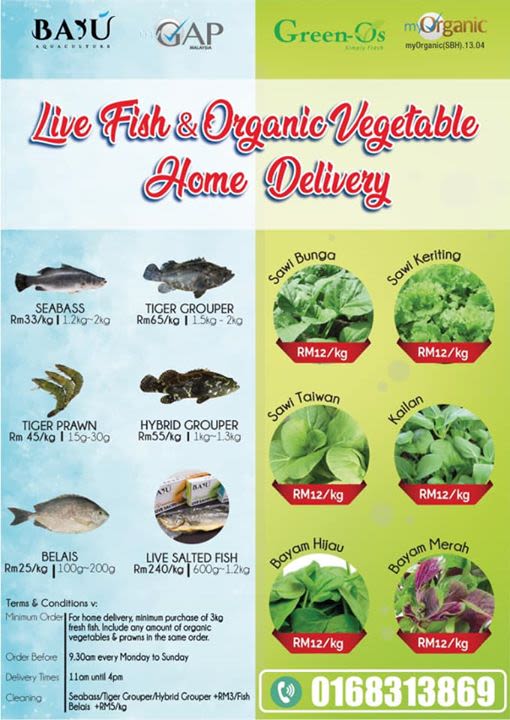 8. Swasana Hijau
Have a taste of fresh greens from this local hydroponic farm, grown in the heart of Penampang. Place your orders, while stocks last, via their Facebook or Instagram.
9. Dream Farm
Shop online here for fresh vegetables, fruits, herbs and even turkey from this local farm.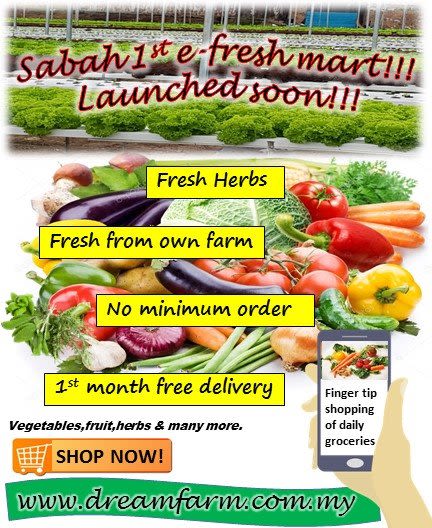 10. Winecellars
Yes, wine is essential too. Winecellars is now doing free home delivery - rejoice!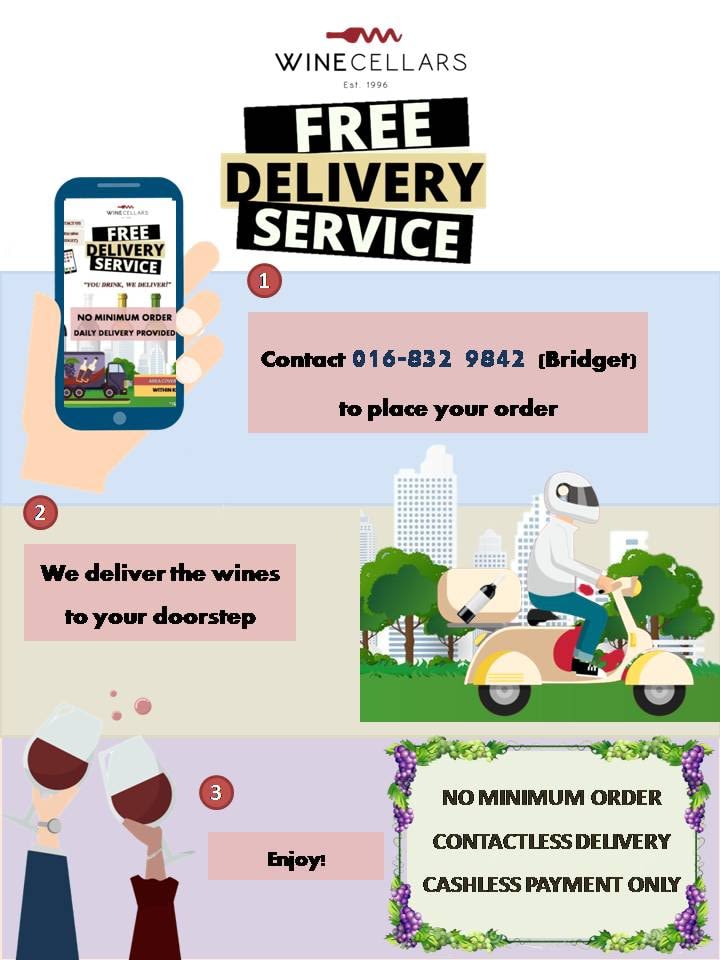 11. Bottle Haus
You can also refill your wine stock with Bottle Haus, Damai. Be sure to check with them for their latest deals.
12. Made By Wine
A boutique wine cellar in KK, Made By Wine, is delivering wine at very affordable prices!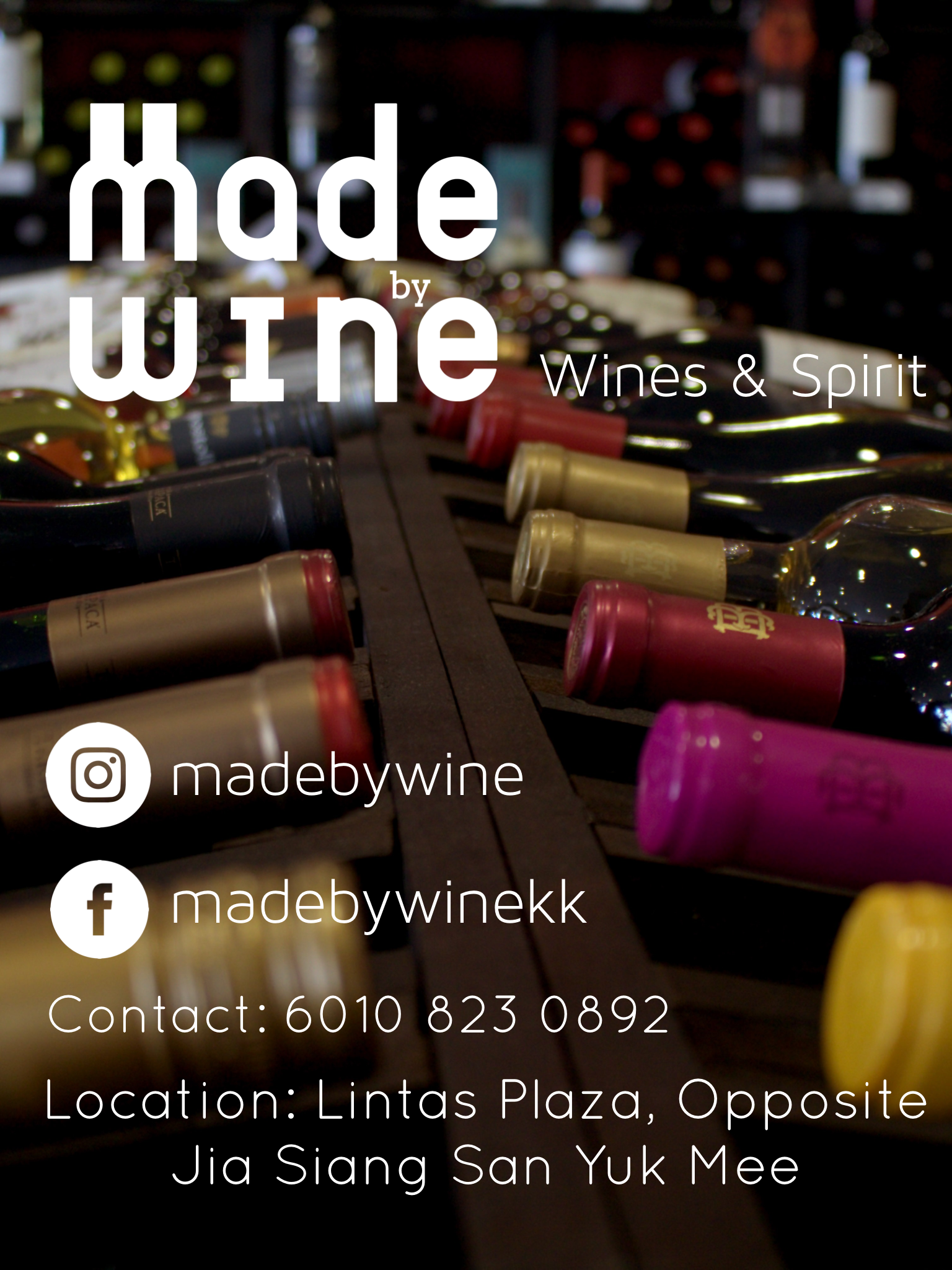 Did I miss your delivery service? Send me an email: ayshea@maxxmedia.com.my
Once your groceries are delivered at your doorstep, we encourage you to take the extra precaution to keep the coronavirus out of your home. Learn how to do so here.
Don't forget to share this list with your friends and let us know what you think on our Facebook and Instagram.